The city of Toledo is in the process of making repairs to a collapsed sewer.  The reconstruction will take place at Talmadge and Laskey roads.  Due to a temporary pipe installation, there will be rerouted traffic through Bob's Street.  Area residents have noticed a significant change to the flow of traffic.  The city has advised that Talmadge Road is scheduled to reopen in the month of November.  Talmadge is one of two north-south arteries in West Toledo that are closed south of Laskey.  Also blocked is Douglas Road, which closed August 24 for replacement of a culvert over Tifft Ditch, near Lambert Drive. 
The sewer main rehabilitation is on a 36 inch, 40 year old sewer that caved in, sending crews out immediately to investigate the collapse.  The new sewer will only be 20 feet deep, directly above the previous main.  Residents have noticed much heavier traffic in and around the area.  Use caution while driving.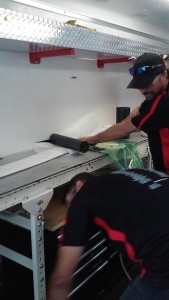 Perma-liner has some good news!!  We are introducing a zero down, no payments for 90 days on our state of the art 22 foot Perma-Main Turn Key Trailer.  We also include training for this trailer system.  This is our Top Gun system that can rehabilitate 6"-10" diameter pipelines.  There are many other points to consider when using this this powerhouse for installation purposes.  A project that is consists of three installations each approximately 500 feet can be completed in 3 days versus the 9 day time frame for a conventional dig.  To find out more about this package deal, call us or go online to www.perma-liner.com.