The City Council of Rocky River has quickly agreed on emergency repairs needed for the City's sanitary sewer. Many residents have been affected by overflows and flooding to their homes. In light of this, an 18 inch sewer main will be built to divert water toward the Rocky River Treatment Plant. This summer has already brought over 9 inches of rain and the pump station at Falmouth Drive was not able to contain the excess water. A new Main is estimated to improve living conditions for over 350 homeowners. The project is anticipated to last two years and will cost upwards of $10 million.
Perma-Liner Industries has got you covered! We are the leading manufacturer of trenchless pipeline rehabilitation equipment in North America. We can help you reline your underground pipelines before a major repair is needed. Our Cured in Place Pipe method will also keep your landscaping intact. Call us or go online to www.perma-liner.com to find out how we can help you.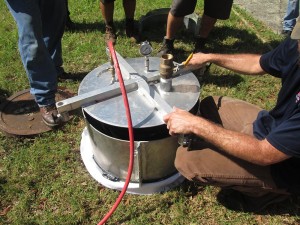 Columbus and Cincinnati, SAVE THE DATE!!
Mark your calendars because you won't want to miss this! On September 15th-17th Perma-Liner Industries is hosting a very special event and we'd love to see you!! We're having our Open House at our facility in Clearwater, FL. and it's sure to be a great time. We'll have our excellent staff here to answer all of your questions about Cured-in-Place Pipeline products and our state of the art trenchless technology. Come out and see live demonstrations, share friendly conversations and gain information. Meals will be provided. Please register at no cost: info@perma-liner.com or 1-866-336-2568. Click Here to Register!