The City of Richwood is preparing for a long anticipated project. There will be a sewer rehabilitation effort initiated in the coming months. The task will consist of a 3.4 million dollar pump station, sewer tie-ins and restructuring of the larger main. The chief factor in decision making for this enhancement is to prevent an estimated 7 million gallons of sanitary sewer overflows yearly. Currently, engineers are assessing the planned improvements and will compile information and gather data to begin construction, not later than a year from now, if not sooner. The City is optimistic for the future of economic growth and development within the community; which will be facilitated with these necessary upgrades to the sewer main. This project is also intended to free up much needed capacity in the sewer main while governing health hazards and environmental concerns.
Fun facts:
1. The Columbus Zoo and Aquarium is the #1 Zoo in the country and 2nd largest zoo in the world.
2. Baseball's Cincinnati Reds, the hometown team, was named for America's first professional baseball team, the Cincinnati Red Stockings.
3. Steven Spielberg, the world famous film director, was born in Cincinnati.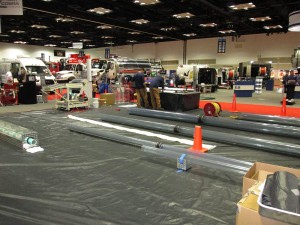 Cincinnati and Columbus, SAVE THE DATE!!
The 88th Annual WEFTEC (the Water Environment Federation's Annual Technical Exhibition and Conference) is taking place at McCormick Place in Chicago, Illinois, from September 26-30, 2015 and Perma-Liner Industries will be there! Come check us out. We will be at booth #804 and we'd like to provide info, as well as, answer all of the questions you may have about trenchless, Cured in Place Pipelining. It's our specialty and we want to share it with you. The conference is the largest conference of its kind in North America and offers water quality professionals from around the world with the best water quality education and training.